WE WILL BE CLOSED FOR SUMMER HOLIDAYS
Your Friendly Family Auto Repair Shop In Guelph!
We will remain open as an essential service. Our office door is open to the public now but the waiting room and washroom are still closed until further notice. Only 1 person is allowed in the office at a time. Please click on these information sheets for more details:
Karli and Brad Busch opened Double B Automotive in July of 2005, with a vision to be "different" from the traditional automotive "garage."
"I want each and every person who walks through our door to feel comfortable, relaxed and confident that they are in the right place," Karli explains.
Karli, Brad and the Double B team take great pride in their work. Quality car parts with solid warranties, highly skilled licenced technicians, and a strong desire to lead the automotive industry in customer service excellence is what makes Double B Automotive, in Guleph, Ontario, truly unique!
Karli and Brad are very busy growing their business as well as their young family. With four children, they are very busy and that's why they completely understand how important it is to keep you and your family moving in a safe and reliable vehicle!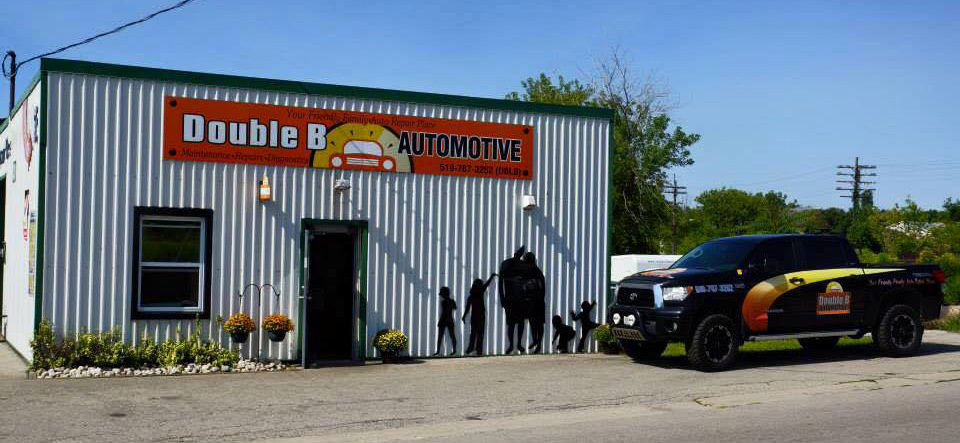 Restore your headlights, upgrade to ultra bright bulbs and receive a 15% discount.
Headlight restoration or plastic headlight restoration is the act of refinishing aged headlight lenses that have become discolored or dull due to oxidation primarily due to UV light and other environmental factors such as road debris impact (stones, sand, etc.) rain, and exposure to caustic chemicals. Over time the protective hardcoat breaks down with UV degradation and wear from abrasion, etc.
If left untreated the headlights will eventually develop small surface cracks, a condition referred to as crazing. The effectiveness of the headlight in terms of light output measured in lux can be significantly reduced. This condition which results in hazy and discoloured lenses is known for causing reduced night time visibility for drivers as the condition becomes worse. It is possible for cloudy and hazy headlights to be restored to a like-new condition and represents typically a far more economical alternative than replacing the lens. Additionally, headlight restoration extends the usable life of the headlight assembly, can be repeated if necessary and is considerably "greener" than disposal and replacement of headlights.